Do you feel confused about CSS?
You're not alone.
Imagine how it would feel if you could make CSS do what you want without the pain:
You could approach CSS with confidence instead of with a sense of dread.

You could fix visual bugs uncovered by your product manager in record time, allowing you to go home early and avoid spending all evening trying to get that text to stop overflowing, damnit.

The next time your company proposes a redesign, you could volunteer to take the lead on the project, allowing you to stand out from your colleagues and win over your boss (this was the exact tactic I used to get a promotion at my last employer)
Painless CSS will give you the tools to master CSS and write it with confidence.
It's not your fault if you haven't yet learned the easy way to write CSS
They never told you in your university CS classes (or at your bootcamp course) how important CSS is when you start working at a real job delivering real products. As a result, you're pressured to ship CSS at your work where you don't have time to learn the fundamentals.
Worse, the existing CSS resources out there are very technical and assume you already know how browser C++ rendering engines work, which is not at all approachable.
Because there is no good resource that gives you a solid mental model for how CSS actually works from the ground up, you're left copy/pasting stuff from Stack Overflow and hoping it works. No wonder it feels so painful to debug those exotic display issues.
Painless CSS is the well-explained, no-nonsense resource that you've been waiting for that gives you the real skills you need to write professional-grade CSS.
Why CSS skills matter
CSS is a hidden skill that separates the best software engineers from average ones. This is because using CSS to build user interfaces helps you learn the skills needed to work directly with users and understand their needs.
The engineering recruiting company Triplebyte analyzed what types of engineers get hired at Y Combinator companies. Their conclusion is clear: "Product Programmers", those who are motivated by product design, get hired much more often than everyone else.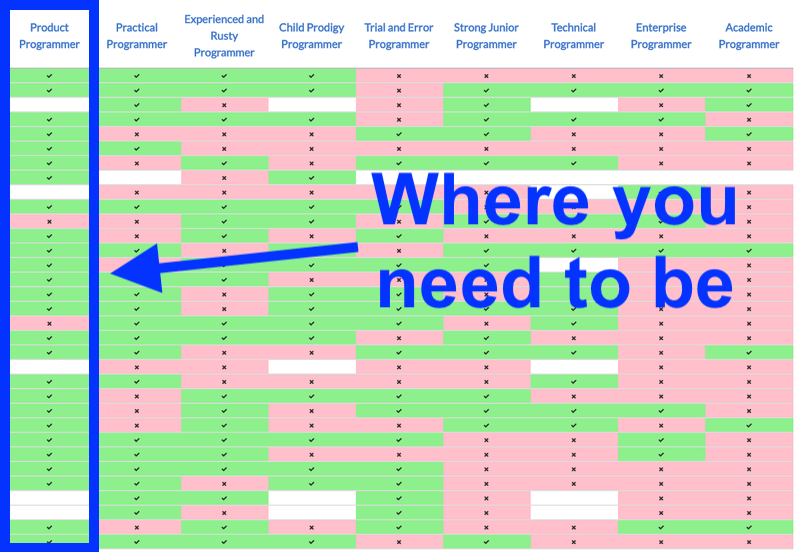 Top companies desperately want more "Product Programmers" because they have the skills to see things from a user's perspective.
Engineering managers love developers who understand users. Working on web design with CSS is the best way to get into the user's head and earn yourself a raise.
There are so few people who are true CSS experts, that it's the easiest way to get an edge over your co-workers, especially if you are a recent grad. This was exactly what I did at my first job out of school—by solving tough CSS problems from day one, I convinced management to assign me to the most rewarding and impactful front-end projects, allowing me to get promoted to a senior position in just over a year, despite lacking the traditional pedigree.
Painless CSS starts from first principles and gives you the confidence to solve web design problems on your own without having to resort to brute trial and error.